Our Mexican Catering is the best you'll get in Queens!
Made with the freshest ingredients - If there's one thing you can expect every single time from our Mexican catering service, is the use of fresh and local ingredients.

Playful presentation - We're not just big on treating your taste buds to lip-smacking food. We also take care of the presentation part. The way we present our food is nothing less than a treat for the sore eyes. You can tell that we have the most creative chefs from our playful food presentation.

Customized menus - We welcome our guests to go ahead and take their pick. We are anything but cliché so every single catering event is a work of art. La Gringa in Queens comes-up with unique and never-seen-before themes that will amplify the beauty of your celebration. We can design a custom menu for a small party, a small corporate get-together, or even family catering.

Catering to events of all sizes/types - Perhaps you're a party of 10 or maybe you want to cater to a large number of guests, say 65. Perhaps you have a birthday coming up, or perhaps it's your wedding anniversary or your hungry office is having a party to celebrate the big business deal. Regardless, our Mexican event catering services will take care of your guests appetite.

Do you have a baby shower coming up? We can cater whatever size baby shower you need. Delivered directly to your event, simply contact us and we'll work with you to make your baby shower perfect.
Perhaps you're planning a birthday bash to remember? Well we can meet whatever birthday catering need you may have, whether you just want a hundred tacos or burritos, or a full banquet of Mexican Catering contact us today and we'll make your ideas reality.
Has your company recently closed a great business deal? Acquired a fantastic client? Celebrate with delicious Mexican Catering from La Gringa Bar and Grill! We can accommodate any site office and corporate event catering.
Wide Menu Selection - Just like our imagination, our menu selection is also wide. With such a huge variety of Mexican catering dishes to pick from, you can be sure no guest will leave feeling disappointed.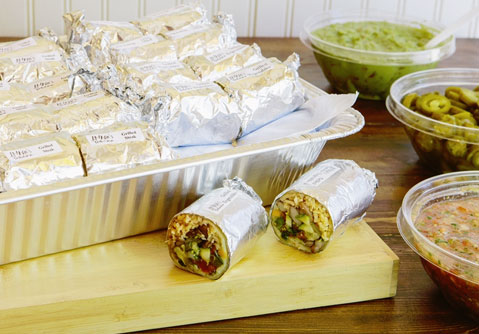 Burrito Lovers: $12.50 per person (Minimum 20 people)
Includes: Spanish rice, Black Beans, Sweet Plantains, Pico De Gallo, and Monetary Jack, wrapped up in a flour tortilla. In addition, corn chips and guacamole on the side. Cutting Burritos in half is a $1 extra charge.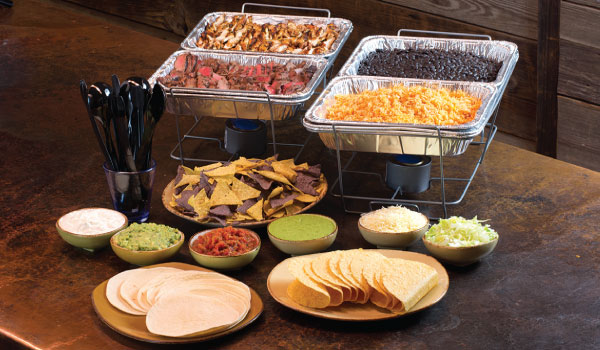 Simple Spread: $12.50 per person Choose 2 meats (Chicken, Steak, Pulled pork, or fish)
Includes: Spanish Rice, Black, Sweet Plantains or peppers and onions, Pico de gallo, Romaine Lettuce, & Crunchy Corn Chips.
Home Style Spread: $15.50 per person Choose 2 meats (Chicken, Steak, Pulled pork, or fish)
Includes: Spanish Rice, Black, Sweet Plantains or peppers and onions, Pico De Gallo, Guacamole, Monetary Jack, Romaine Lettuce, Crunchy Corn Chips and corn tortillas.

Taco Bar: $12.50 per person 2 Tacos per person. Choose 2 meats (Chicken, Steak, Pulled pork, or fish)
Includes: Black Beans, Pico De Gallo, Sautéed onions and peppers, Monetary Jack, Soft shell corn tortillas, Romaine lettuce with some crunchy corn chips.





Addons & extras:


Steak - $2.25
Tilapia - $2.25
Pulled Pork - $1.75
Chicken - $1.75
Guac - $2.75
Pico (2.5oz) - $2.00
Elote - $1.50
Flautas - $1.00
Sautéed Peppers/Onions - $1.75
Quesadillas (Meat & cheese) - $5.00
Gluten free Taco tortillas:
$4/Pound (About 15 tortillas)
Flour tortillas:
$5/Pack (About 15 tortillas)


Drinks:


Pineapple
Mandarin
Fruit Punch
Mexican Coke
Diet Coke
Jarritos (Mexican all natural sugar)
(Different flavors available)


Materials:


Sternos - $2.50
Wire rack - $5
Table cloth $4 (Plastic)
All of our packages also include our special homemade Sauces: Tomatillo (Mild), Picante (Hot),
Chipotle (Sweet & Spicy), and Sour cream. Napkins & utensil provided. Also includes Napkins & Utensils.

Premium liquor selection - Of course no event is complete without some quality booze. We know that. With that in mind, we serve from a huge selection of international and domestic wines, beers, and spirits. We can also create a classy bar for you at the event. Our signature cocktails will keep your guests entertained and asking for more throughout the party.

At La Gringa, we are not afraid to go above and beyond into meeting your expectations. To ensure that, we have made sure to incorporate the following elements into our catering service:
Imaginative theme
Wide and customized menu
Gourmet food prepared with freshest, handpicked, local ingredients
Licensed to serve premium liquor
Cater to special dietary requests
Professional wait staff and bartenders